When design meets engineering – how to turn great ideas into great products
Of Counsel Vicki Strachan talks to Phil Staunton, Managing Director of D2M Innovation Ltd, a design consultancy that helps turn great ideas into brilliant newly manufactured products that sell.
Manufacturing is the stage at which a product finally comes to life and, after many months or even years of planning, designing and re-designing, this is an exciting time in the journey from concept to market. That said, it can also be a daunting stage and one in which speed to market remains key.
Phil Staunton, who founded D2M Innovation in 2010, has over 10 years' experience of supporting start-up businesses and SMEs develop and launch innovative, new products onto the market. He now specialises in strategic planning of product development to minimise risk and therefore maximise the chances of success.
Talking to Vicki, Phil explains there are up to 18 main stages of work you are likely to progress through, and his advice is: "Do not compromise on shortcuts that may create bigger issues further down the line. Bear in mind that, often, you will have to choose between quality, cost and time to completion, so make sure you know which are most important to you.
"Make sure that you inform the manufacturer of any particular standards or certification that your product needs to comply with and, ideally, select a manufacturer that is used to working to the standards of the countries where you plan to sell your product.
"The right manufacturing partner is the key to the success of your product, and before you embark on the process of selecting your manufacturer, you will need to have a manufacturing specification for your product, which is a complete representation of the product which provides any suitable manufacturer with the right information for production."
Phil recommends using a checklist, like the one below, to make sure you don't miss anything important.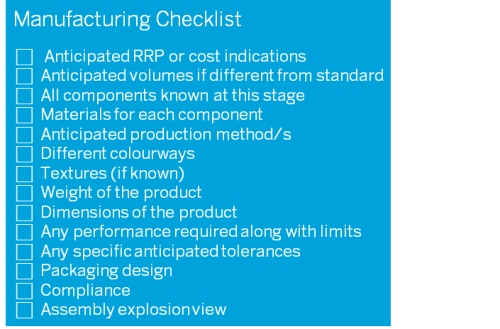 Another thing worth considering before the manufacturing specification is completed, is whether or not to consider registered design protection for the product in its final form. This can provide powerful protection for the appearance of your product, and unlike patents, can be put in place quite quickly to guard against copies of your product entering the market very shortly after yours. Not only can this severely affect your own sales, but if the copies are of poor quality your brand can also be badly damaged.
Ultimately, though, Phil adds: "You are not the first entrepreneur following this path. You will probably make mistakes during this process. Learn from these, be reactive, and don't give up!"
Vicki Strachan heads up Mathys & Squire's Oxford office. She works with a range of startups, helping them to get their businesses off the ground and into the market. The firm's global team works closely with the founders to ensure that their IP strategy aligns to their business objectives and enables them to manufacture and protect their products and ideas worldwide.
This article was first published in Business & Innovation Magazine in May 2019.