What SMEs and universities need to know about the Unified Patent Court and the Unitary Patent system
27 March
2023
The Unified Patent Court (UPC) will be coming into effect as of 1 June 2023 and with it the possibility of obtaining a Unitary Patent (UP). Now is the time for intellectual property (IP) right holders to identify the potential implications for their patent portfolio and devise an actionable strategy.
What is the Unitary Patent and the Unified Patent Court?
When it comes into effect, the UP will be a single patent that will be enforceable across a large number (17 at present) of European countries. All litigation involving the new European UP will be conducted in the new UPC.
How does this differ to the normal way of obtaining patent protection in Europe?
To date, the current way of obtaining patent protection is via a central examination and grant procedure before the European Patent Office (EPO). This enables a patentee to obtain protection in up to 44 territories (indicated in Figure 1 below; these are all territories that have signed up to the European Patent Convention) – importantly, this includes countries that are outside of the EU such as the UK, Switzerland and Norway. The examination process of a patent application is carried out before an examiner at the EPO and they make a decision as to whether or not a patent can be granted.
This procedure is not changing.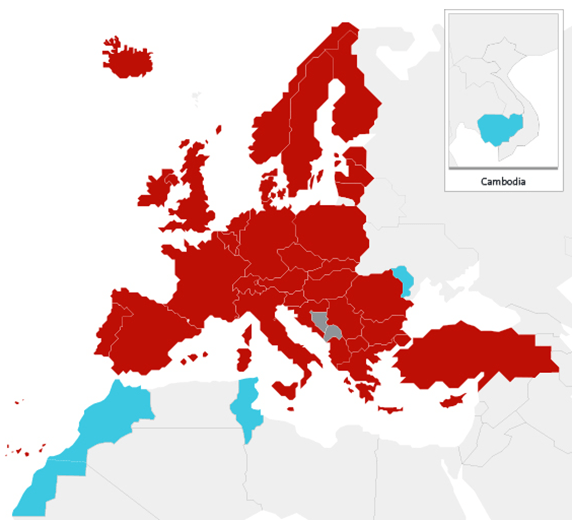 Figure 1 – Source: European Patent Office
What has changed?
Currently, when the EPO examiner decides to grant a patent, the proprietor has to opt to 'validate' that patent in any of the 44 territories that are signed up to the European Patent Convention. This involves filing translations in many territories, as well as the payment of renewal fees in each elected territory.
What has changed is that in addition to the 'traditional route' of country-by-country validation, there is a new option to obtain a Unitary Patent covering (at present) 17 EU states: Austria, Belgium, Bulgaria, Denmark, Estonia, Finland, France, Germany, Italy, Latvia, Lithuania, Luxembourg, Malta, Netherlands, Portugal, Slovenia, Sweden. This means that a single patent can be obtained, with a single renewal fee, covering all 17 countries. Importantly, UK based attorneys can still represent you before the EPO and can request a UP on your behalf.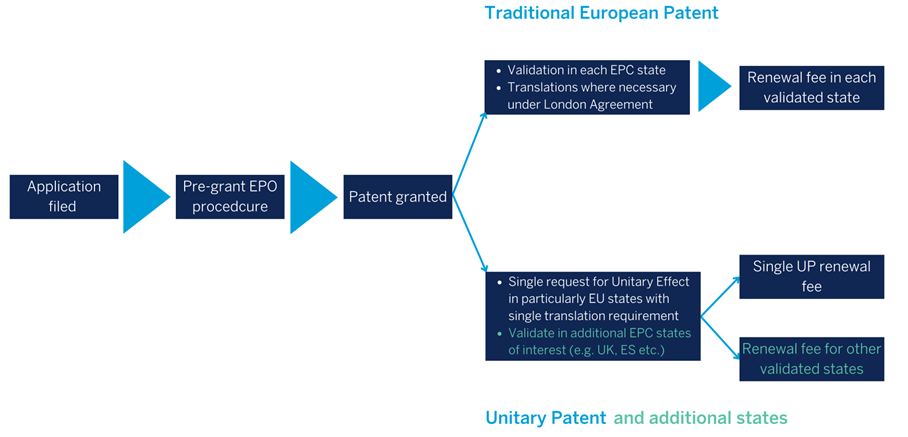 Figure 2 – Patent filing routes
For any countries that are not part of the UP system, protection is still possible via the 'traditional route' of national validations – such as the UK or Spain.
What role does the Unified Patent Court have?
The UPC is an entirely new institution. The court will hear infringement and revocation actions on patents granted by the EPO. It will issue a single decision having effect in all UPC states. The court will also represent the exclusive jurisdiction for UPs and 'traditional' validations in UPC states, unless opted out. This means that the new court will have exclusive competence to decide on matters of infringement and validity relating to 'traditional' European patents.
The court will, however, have no jurisdiction over 'traditional' validations in non-UPC states, or over direct national patents.
For a transitional period however (initially seven years, extendable on review), owners of European patents will be able to opt out from the jurisdiction of the UPC to ensure that proceedings concerning their European patents can only be brought in the national courts. Patents which have been opted out will stay opted out for their whole term, unless the patentee withdraws the opt-out (which they can do at any time).
As an example, as of 1 June 2023, an action for revocation of an EP (DE) patent (that has not been opted out), will be brought before the UPC, not before a German court. Similarly, an action for infringement of a European patent in Germany will also be brought before the UPC. Decisions of the UPC will then have effect across all contracting member states.
The opt-out procedure will therefore be very important for anyone wishing to avoid the UPC, as well as the uncertainty a new judicial system may bring, especially in the early stages.
Why should SMEs and universities consider a Unitary Patent?
For some, it may be cheaper to validate one Unitary Patent (comprising 17 current member states) than to validate multiple separate patents in each of the European countries covered by the UP, as there is no official validation fee, and the translation requirements are simpler.
The UPs might also simplify European patent portfolio management, as managing a single UP that covers many European countries may be less complicated than keeping track of multiple separate national patents, with multiple renewal fees.
Moreover, proprietors of a 'traditional' European patent may have to litigate in parallel in all countries where it is validated. Such multi-forum litigation is expensive and complex and can give rise to legal uncertainty, for example if different national courts arrive at different conclusions. The UP avoids the need for parallel litigation actions between the same parties in the national courts.
The UP might also provide broader European protection. Although the UP does not cover every European country, a UP will give most patentees broader patent coverage across Europe for a similar cost to what they are currently paying to validate and maintain the patent in three or four European countries.
Why might SMEs and universities want to opt out?
The UPC is set to begin on 1 June, until then you can request to opt out of the UPC jurisdiction. If you don't, you will automatically be 'enrolled' and exposed to the benefits and risks of this new system.
The UP does not cover all European countries: in particular, the UK, Spain, Switzerland, Norway, Poland, Turkey, Croatia, or Serbia. National validations will still need to be pursued for these countries.
For many, it might not be cheaper. If a patentee currently validates their European patents in three or fewer UPC member states, a UP will be more expensive to maintain. Furthermore, the value of the renewal fee for the UP is fixed for its lifetime. By contrast, many patentees with 'traditional' European patents may choose to 'prune' states to reduce the number of European countries for which they pay renewal fees as the renewal fees become expensive towards the end of the lifetime of the patents.
While having a single UP to enforce at a single court may be attractive, it also opens the UP up to attack. A single revocation decision before the UPC may revoke the validity of the patent in all member states.
All patent holders must understand the benefits and risks of the UP and the UPC. Every business and every patent portfolio are different, and the UPC will present different opportunities and raise different issues for each of our clients. All considerations need to be taken into account in order to devise the most effective strategy going forward, and now is the time to prepare.
Written by: Andrew White